I didn't log onto a computer for 9 days, and it felt great. I loved my vacation - it was like I didn't have a job. Like I was a college student in between semesters again. Only a college student who was free to spend whatever I wanted as I went about doing the tourist life on Oahu, with military friends as a guide. I'm a total fan. You know it's a great vacation when you're sad to go home. Sometimes, I'm happy to be done with a trip and get back home where it's cozy - not this time. This trip also marked the longest plane ride I've ever taken, which was Dallas to Honolulu. Hmm, all I'm doing is gushing, but it's because I've spent the past 9 and a half days surrounded by family (often crammed in next to family), and it's never easy to go from that to my solo apartment. Not that I don't love my solo apartment. It's just, I'm an adult again. I've said it before and I'll say it again, there's nothing quite like being taken care of by people you have absolute faith in. Trust.
I swear this is the road MB lives on in Aiea, HI. Her kids are the cutest.
When I did come back, I realized:
I might want to invest in a spice rack. Something so they're not just randomly stacked all around. They probably have those at Ikea, but I'm not sure how willing I am to brave Ikea on a Friday night. Do they have them at Walmart and I just never noticed?
I still have dead flowers in a vase from my birthday, two months ago.
I don't know quite what to do with Bartholemew the gerbil which my cousin AM gave me, but I think he's adorable and I wish he wasn't a key chain.
I need to make a list and spend the weekend Christmas shopping.
My sisters and I really are going to play it off like we spent all of Christmas in Hawaii.
I'm back to don't-really-care mode with S, which is b/c I'm not convinced he really cares, so I can't set myself up for failure. Novels teach me that this means I'm setting myself up for failure since I'm not going all-in.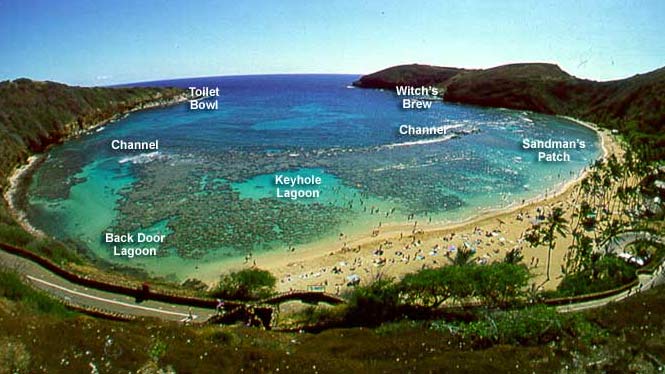 Hanauma Bay - We went here on the 4th day for the snorkling and had a sibling beach photo shoot.